---
Wood Stove House concerts presents:

Barnaby Bright

w/ Jason Mundok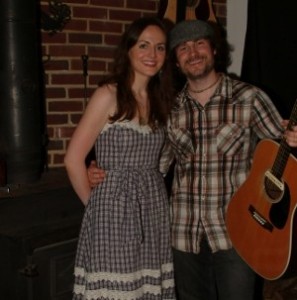 Barnaby Bright's music has been featured on television shows such as ER, Days of Our Lives, and PBS Roadtrip Nation. Their song, "If I Came Back as a Song" was voted 3rd place winner by a notable panel of judges inlcuding Tom Waits, in 2007′s International Song-Writing Competition.
They recently returned from a month-long European tour to promote their first full length album, "Wake the Hero." Fronted by Nathan and Rebecca Bliss, Brooklyn-based Barnaby Bright combines beautiful acoustic guitars, lush harmonies, rich string arrangements, quirky instruments and subtle electronic tweaks. Their unique brand of lush, indie folk is a warm and welcome wind of change.
Jason Mundok, along with percussionist David Armstrong opened the show.
This show SOLD OUT!